ABSI Connect (Alberta Social Innovation Connect)
Previously their brand identity consisted of a forest green and classic orange colour - although they work together (but would't have been my first choice for a colour combo), they weren't doing their job of reflecting ABSI's personality of being a calming, connecting force in the social innovation network. To reflect this I chose subdued calming colours of teal, orange, and navy blue.
The brand of ABSI had been circulating in the sphere for a few years when I joined the team and had already gained the status of being a well known brand so I didn't want to take away the identifiability of it. That's why I stuck with the same colours but moved them into a different shade as well as stuck with a similar icon shape but just sharpened the edges and cleaned things up.
Did I also mention they had two logos? So I knocked it down to one.
Previous ABSI Connect Logo: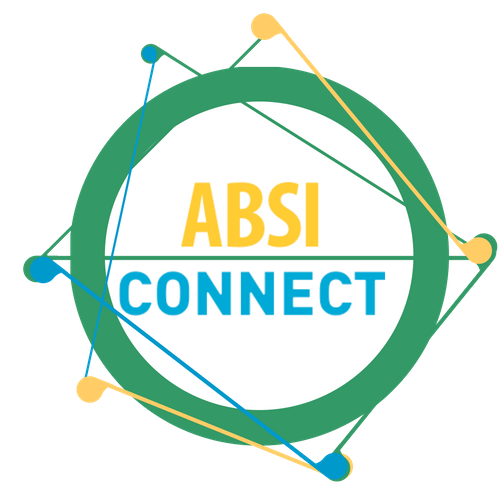 Revised ABSI Connect Logo and Brand Identity:

The ABSI website had great bones to work with when I joined the team. It was a matter of re-freshing the design to reflect current website design trends. This included creating consistent paragraph styles, selecting a consistent type of imagery used, adding more imagery to the design, and layout changes.  I also reorganized the content and relabeled the items in the navigation bar to be more clear and reflective of the child pages beneath them. 
Another frequent question ABSI employees get asked is "where can I find ___ resource? Do you have any resources on ____?" so we figured it was time to create a 'vault' so to speak of resources. You can find this 'vault' as the resource library on the website where resources were sourced and categorized by topic.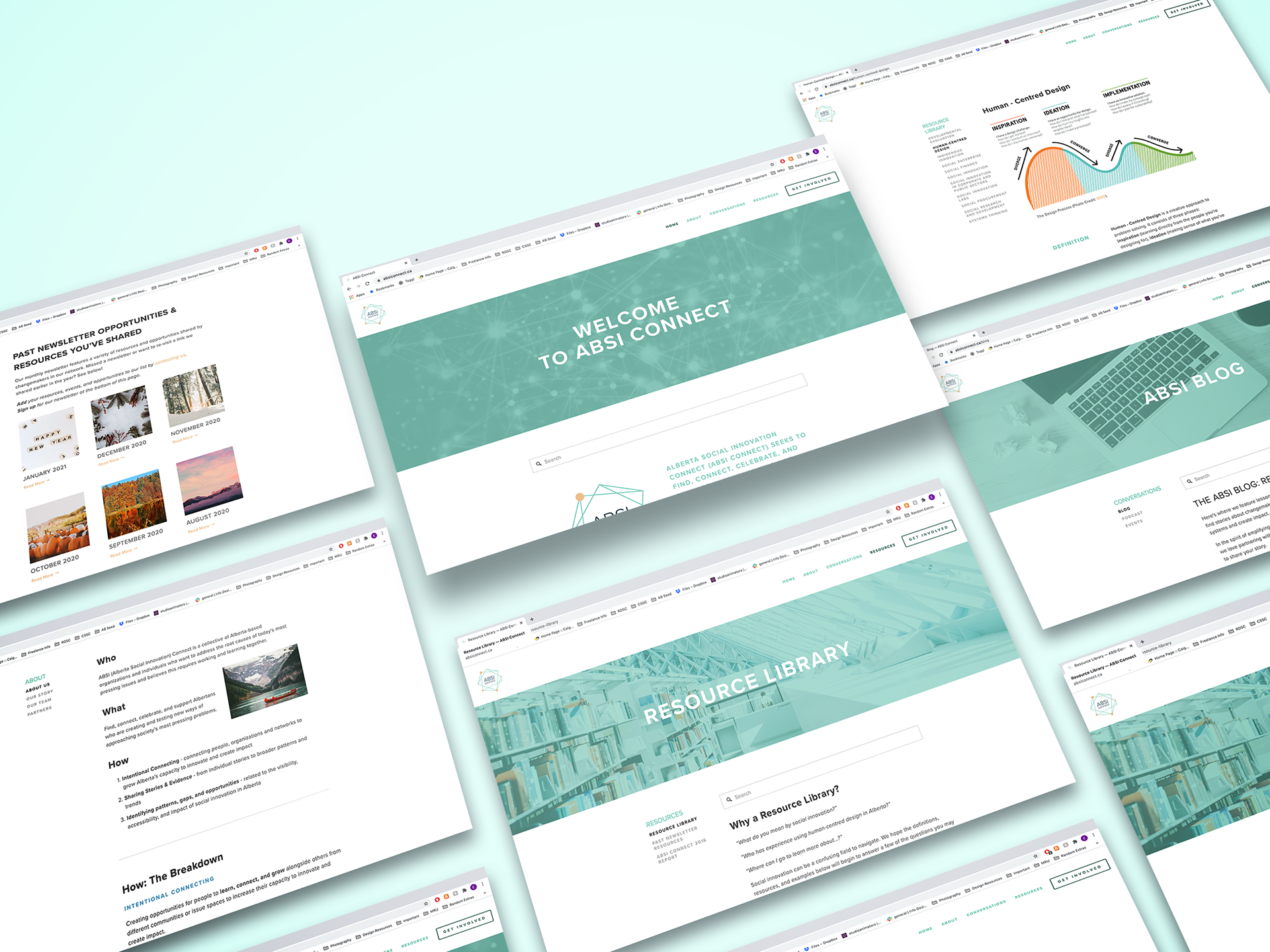 Once the brand identity was set it was time to create a cohesive collection of marketing materials for the team that visually represented the brand as well as clearly outlined how folks can get involved with ABSI Connect. It's a question we got asked frequently "how can I be involved? What can I do?" so we did some brainstorming as a team and came up with clear tangible outcomes to put on our promotional postcards.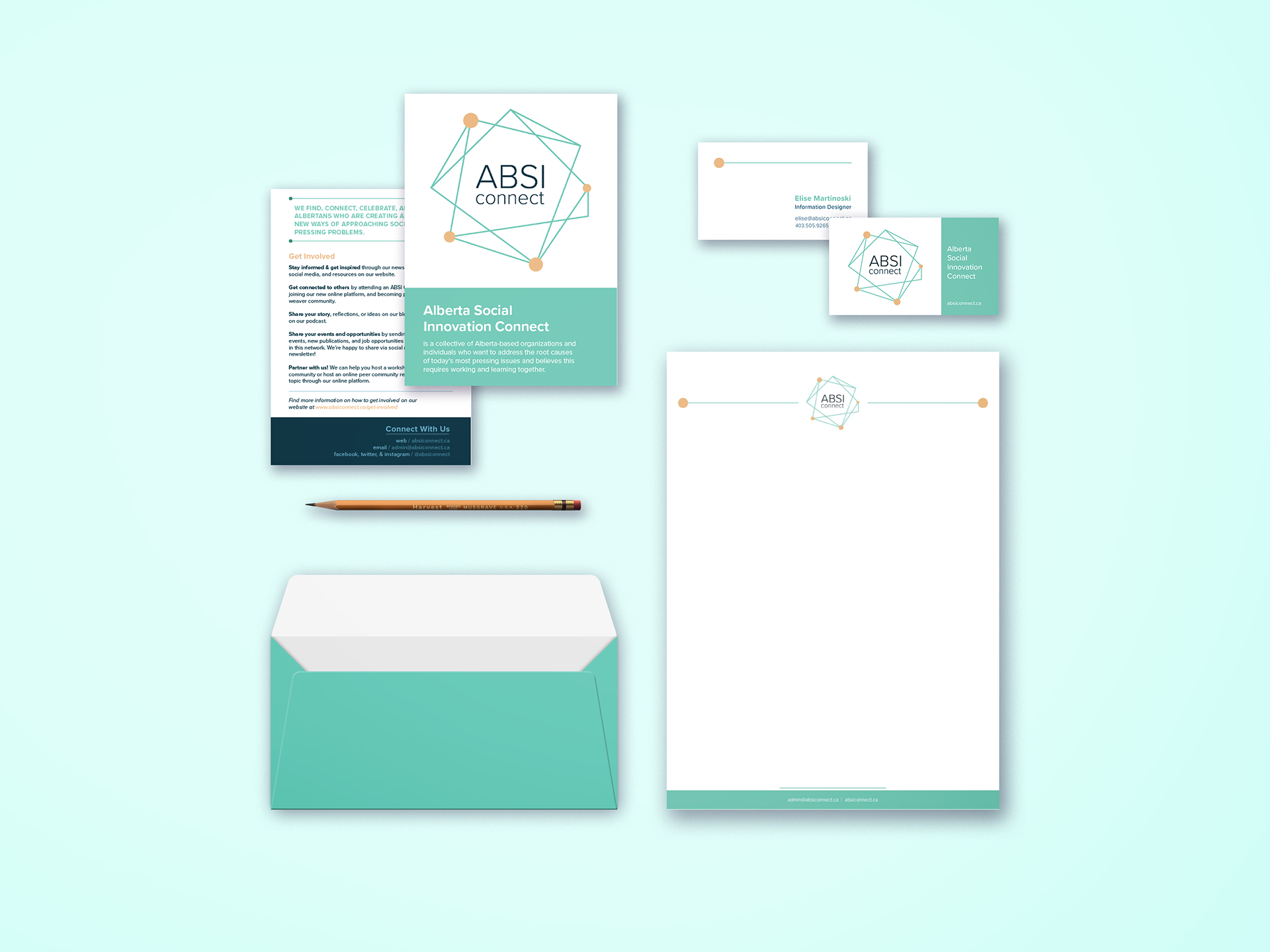 In early 2020 ABSI was as
ked if th
ey'd like to have a booth at the Alberta Healthy Communities Symposium in Calgary to educate the participants about ABSI Connect and how they could get involved in the community.
I was the representative at the event for ABSI and wanted to come up with something more than just your average marketing materials and banner booth. I came up with the idea of creating a miniature interactive exhibit to gather data on the participants who engaged with the ABSI Connect booth. The data we collected was on the barriers and enablers of creating change in the health sector. You can read the full blog post on the data here. 
As a result ABSI Connect was asked to run an asset mapping session for the 2021 Symposium based on our exhibit from the year before and I am in charge or planning and hosting the session for an anticipated 150 people in March 2021.